Because I'm slightly Insane(only slightly you say?) I've decided to do this report in one post.



Day One

I got on the plane (for the first time) and I loved it. I was a little worried as I'm terrified of heights and I get motion sickness but I absolutely loved it. :D It was so cool looking out the plane and seeing everything, although going over Alberta it's mostly farms that you see but it was so gorgeous flying over the mountains to get to Vancouver. When I got off the plane I took a cab to the hotel and I had to rest for awhile as I was tired and not used to my ears popping.

Here was the view from my room:
I went and stood in line for a couple of hours waiting to preregister. I talked with these really nice people from the states. They go to all sorts of conventions every year, in fact they were going to another convention before they even go home!
Had a lot of fun at the chocolate fantasy party, I might have gained twenty pounds from eating so much chocolate. Dan Shea was calling bingo and he was hilarious. David Palffy was supposed to be their too but he couldn't make it. Dan said it was because he was with Lois Lane( I guess David Palffy and the girl who plays Lois Lane on Smallville are married, I had no idea). It was pretty funny because right after that he called 0 69 and said "speaking of Lois Lane", We also saw Dan just hanging around the stairs and somebody asked him if he was still wearing shorts and he said they were his dress shorts.
Day Two
I spent way too much money on merchandise and I met up with
sgangel
as I happened to almost break my camera. I saw her and said hey and flung my camera up in the air, you couldn't tell I was blonde? right?
We saw Dan Shea who was so hilarious. He filled in for Alexis Cruz who had issues with his passport. Dan was all over the place and just so energetic. He brought out his big wrench which was so funny. At the end he asked if Dan Payne had a good body(or something to that affect) and then he started stripping and doing push ups!
Went out to supper at A&W with
sgangel
, I thought it was hilarious that they cross walks had count downs. It was like 7..6..5..4..3..2..1 and then you start getting hit by the vehicles? LOL
Day Three
We had photo ops with Kavan Smith who was so adorable, I just wanted to squish him. It was really funny because everybody was waiting in line and then Kavan started walking down the hallway and everybody started cheering and I guess we freaked Kavan out! Then Alexis Cruz walked down the hallway, everybody started cheering and he just started yelling, "Yay, Stargate" I had my photo with Kavan and he said he liked my necklace!
Alexis Cruz was on stage and he was pretty awesome. He talked about the fact that the origianal movie was mostly improv? and that he was supposed to be a regular in SG-1 but just wanted to be recurring. Somebody asked what it was like working with James Spader, and he basically said that he was a good actor and knows that he's a good actor and that they didn't hang out.
Alex Zahara I have to say was the nicest guy ever and so down to earth. He's from Grande Prairie which is like a couple of hours from where I live, which was so cool! I would have to say that Alex is a bit of a enviromentalist and he talked about camping in Jasper and having a close encounter with a bear. He was so nice though, he hung around afterwords and he was going to be in trouble with his girlfriend because he was supposed to be with her and was doing the convention instead. He was a sweetheart, I also saw him on Sunday in the crowds just talking to people.
James Bamford
I guess Bam Bam is 41(say what?), I thought it was so funny Bam Bam was giving away Stunt reels because he didn't need them anymore LOL. He told us of the story of how he got his limp. He was doing a stunt for Scary Movie 4(I think, I don't remember). He went flying into the cold ground and developed Arthritis in his hip. He also told us that Rachel Luttrell told him that she was pregnant right as they were shooting Missing and I guess he had to keep this a secret from the producers until she told them.
Here's Bam Bam in his Brokeback Mountain shirt :D (his words not mine)
Kavan Smith was such a cutie. He talked about the fact that he has a little boy that's the same age as David Hewlett's little boy. He said their must have been something in the water because a bunch of people on set had babies at the same time. Somebody asked him if his character was gay who he would have a relationship with and he said he would have an open relationship with David and Paul. ( I assume he meant Carson and Mckay :D) Kavan's doing an episode of Supernatural Yay! I guess Kavan's from Alberta too which explains why he's so nice :D Also, when we were signing photos he called me sweetie!
Everybody had a blast at the cocktail party and Kavan and Bam Bam were awesome. Bam Bam got a call from Jason when he was at our table. He was singing WhiteSnake.LOL
Since we were the last table we got to walk behind Kavan to go to the Stunt Show/Cabaret. Alexis did an amazing job at the Cabaret which was kind of various different stereo types of Latin American's. It was really great.
Then Jason kicked some ass. I don't know if it was during this or the next day Bam Bam made a joke about Jason doing Gay Porn and Jason said "hey, a man's got to eat." Oh boy, wrong choice of words. I think he was just making fun of him for doing BayWatch.Seriously though, the stunt show was amazing and so funny. Their was also a stunt where some people in the audience were booing and saying that the didn't do their own stunts and I guess it was part of the show. It was pretty funny, I guess they were friends of Jason's and they do stunts as well.
Some pictures of props.
Day 4
I go up real early, and went on the set tour. I can't post pictures cause I'm not allowed to but I can post a picture of me stading in front of the gate :D All I have to say that it was awesome, and it was smaller that I thought it would be. The exception would have to be the Atlantis sets, they are just so huge. It was amazing though.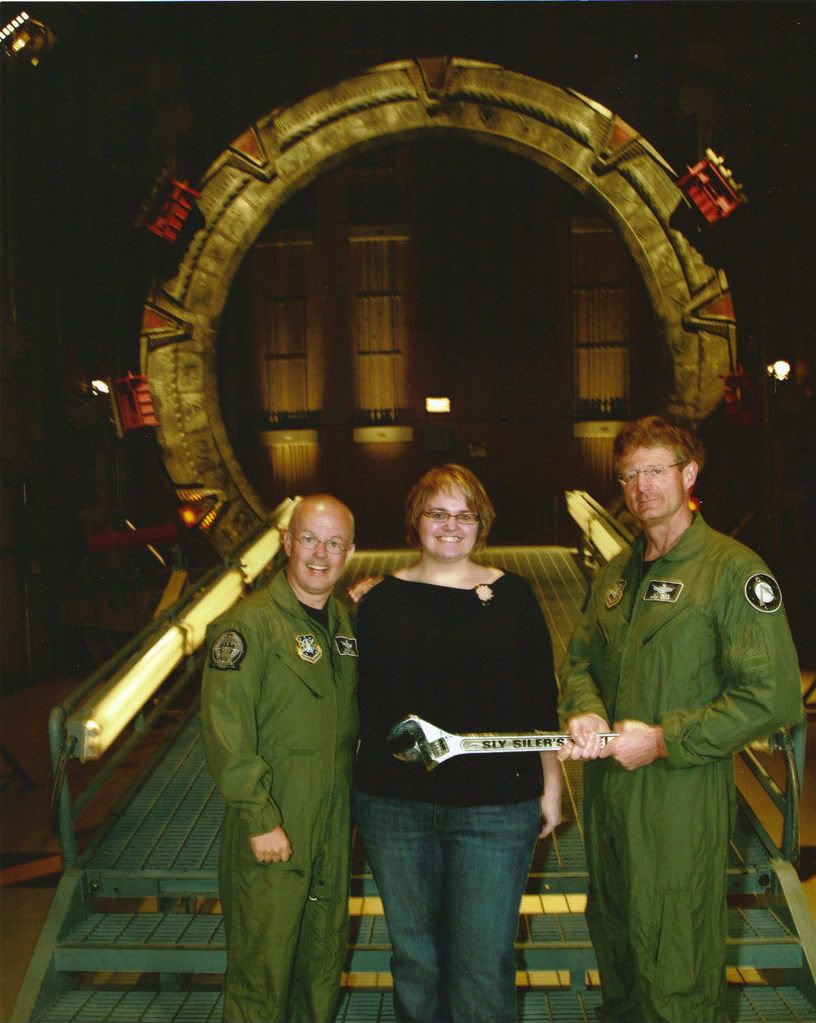 Corin Nemic was really nice and looked so different. He had the cutest laugh and he was telling everyone his Klingon story. He was at a convention and this drunk 500 pound Klingon wanted to pick a fight with him because he was wearing this wrestling shirt. He basically ended up tackling this huge Klingon and then he went by the pool and their was again some Klingon's in the pool, at this point he thought that Klingon's were real. He then said something like "Beam me up Scotty!" It was funny. Oh, and he just finished playing Ted Bundy.
Brad Wright and Martin Wood came out and they showed us the trailer for Continuum. Let's say their was a lot of screaming fans. For some reason I don't remember much from this panel. I got this signed by Brad and Martin.
I missed part of Chuck's panel because I was standing in line for autograph's, but what I did see was hilarious. Chuck said that David has squirrel's and he would have hamsters. He did this hamster impression that was absolutely hilarious.
Martin Gero was up next and I heard most of the questions before but I think the funniest moment was when somebody asked if they were going to have any more male kisses and Martin asked her who she would like to see and she said Mckay and Sheppard :D Then everybody started cheering. :D Oh and Martin said that he did the kiss between Mckay and Beckett because we hadn't seen two males kissing on T.V, or at least on a show that anyone watches. (Poor Torchwood fans, everbody started booing him.)
Gary Jones was really funny and poor Gary was taking photos for 7 hours. It was pretty funny because he was talking through his whole panel and then in the last five minutes he was like, "Is this a question and answer thing?" It was hilarious.
Jason Momoa was the last one up. I don't remember much about his panel except I thought the story behind his tattoo was really interesting. Their are clear triangles and dark triangles on his tattoo. The light ones let the light in and the dark ones trap the negative energy. Bam Bam came on the stage and they were hilarious together. I heard somebody say at the Dessert party Jason told this story about how he nearly got Joe in trouble at the airport. Jason slipped some dirty pictures between Joe's laptop and Joe had to open his computer up when he was flying to the states and he almost made him miss his flight. Apparently Jason and Joe live together in Vancouver, they share an apartment.
Day 5
Rainbow Sun Franks was absolutely adorable. He said that this was probably his last con, and I can totally see that. I mean he's not really in the show anymore. He did some rap for us, I guess that he has a band and it was really good. I don't really remember much of his panel.
John Smith's panel wasn't too interesting except somebody asked why Torri and Amanda left, if it was because of scheduling issues? He kind of just slid past the Torri question and said that they loved Amanda and that she was doing her own show now so that's why her character left.
Michael Shanks was absolutely the funniest guy ever. He was saying that him and RDA would do their lines as two queens. That was pretty funny. Michael said something about the fact that you can't lie to his wife and that she's always right. Then you hear Lexa in the back, "that's right." Somebody asked if he was a hockey fan and he just looked kind of sad because his team lost, poor Canucks fans. Oh and it was so funny, everybody had to sign their name on this banner they had and his face was on the very top so he signed Corin's face.LOL
Lexa was hilarious too. I missed some of Lexa's because of pictures but she was so funny. She says to ask Michael what he was thinking in wanting to name their kids. He wanted to name their daughter Tabby Shanks(?) and he wanted their boy to be named Sam James so he could say "my names Sam James bitch."
Wow, that took me forever :D